Chicken or egg – Teacher or trainer
What kind of trainer/teacher should train the future generation? The answer is simple: trained. However, this only one word generates several further questions about what makes a good trainer.
We have talked with four participants of Erasmus+ staff mobility training course "Train the Trainer" held by DOREA from 21st till 25th of November in Limassol, Cyprus. Three of them are from Portugal, and working as a head of teaching in a vocational school, as a director of another vocational school and as a trainer. The fourth participant is a student from the University of Cyprus. They helped us to figure out what are the most important attributes to develop if someone wants to become a skilled trainer.
Knowledge, communication skills, creative tools, use of practices; these are the keywords for a description if the participants need to imagine the best trainer. By their own admission, the participants have the greatest strengths in communication skills, creating an interactive feature by group works, or giving feedback. On the other hand, all of them are aware of the importance of self-development; therefore, they found useful to learn new methodologies and toolkits in connection with all of these areas. For example, they had few hours session about how to keep focusing on giving more positive feedback than negative feedback, or embed the negative feedback in such a way that it will help the person to improve. According to them team building is the most important part of a training; especially at the beginning, to be able to know each other and see how they can  interact, how they can work as a team.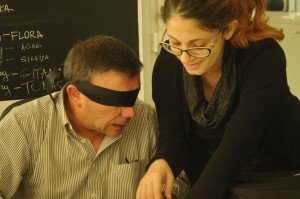 They also admitted that all of them have some limiting believes which hold them back from feeling comfortable as a trainer. The most common is the fear of public speaking. At this point maybe you, dear reader, imagined yourself as well in a situation when you have to give a speech for an unfamiliar audience. If it makes you uncomfortable, than you also power the group of those people who has glossophobia – fear of speaking – as the 75% of the population in general. During the training our participants have learned about techniques which help them to feel more confident and calm when they have to hold a lecture, make a presentation, or just simply talk with unfamiliar people.
During the past years an important thought appeared on the stage; we need a change in the existing education systems. This change should happen now urgently in line with the need of all stakeholders – enterprises, goverment, educational organizations, etc. –  to reduce the gap between the education system and labour market. One possible way for this is to constantly develop the skills of teachers, educators and trainers as they are forming the future generation. It is extremely important to provide them techniques and practical tools to be capable to transfer the knowledge to their students better and in the most up to date way. In a nutshell, quality education starts with the educated trainer.
Prepared and edited by Flóra Fierpasz