Advise from one to another: remove "hesitation" from your vocabulary
We had a nice conversation with Gediminas Paulauskas, one of the DOREA interns from Lithuania.
He has just graduated from Advertising management in Vilniaus kolegija / University of applied sciences, Faculty of business management in Vilnius, Lithuania, 2016. After graduation he came here to DOREA Educational Institute in Cyprus to get more experience. This is his third mobility. The first time he did an internship in Spain at the company "Cloud Incubator HUB", where he was responsible for dissemination of information, communication and got a lot of work experience in organizing, promoting, developing two projects: "EU-XCEL" and "Startup-Scaleup", as well as working with advertisement tool such as brochures, flyers, or workshops. The second time he did an internship in Belgium in the company "coLanguage". He was responsible for website optimization, dissemination of information, Lithuanian marketing channels (research), partnerships and communication with students and teachers. He got an experience working with google analytics and SEO (search engine optimization) content.
If you think about the Erasmus+ Mobility Program which three words come to your mind first?
Adaptability, creativity, and cultural experience.
Which are the main positive effects of the international internship? (List 5 effects based on your experience.)
First of all, experience. However, we shouldn't be taking into consideration only the work tasks but we need to take into consideration the communication manners, the atmosphere, organizational skills or teamwork.The whole story is about what is around me, what I can hear, how I can move, and what I can see. It's an experience as well when you use or do something for the first time and then you need to adapt; therefore, you have the possibility to improve your adaptability at the same time.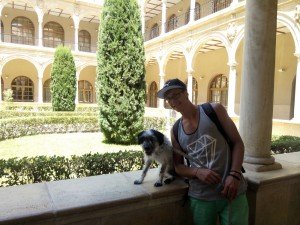 Why did you decided to make an internship abroad? What were your expectations?
That was always in my mind: university gives you an opportunity to do and internship in either way; you can do it in your country or you can do it with Erasmus+ program in another country. Why would you choose the second option? Despite the fact that tasks are the same, you can benefit more in some contexts regarding the culture, languages, or the new market. There is more substance, you can be more successful, and there is more potential, because if you do internship you take a challenge. Every company is searching for the youngsters with a lot of experience; with this program you can get the most experience as it is possible and in the best way to become more viable.
Do companies expect from their employees to have and international experience?
I think it can be an advantage, but not the main thing. In your own country you can also learn these things related to culture by reading books, watching videos, etc; on the other hand, you don't experience it first-hand. The best combination if someone has experience both in his/her own country and abroad as well, to see the market and able to make comparisons.
What kind of new skills have you gained during your internship so far?
It's a long list: communication skills, organizational skills, adaptability, creativity, advertising skills, management skills, control, problem solving skills –I have learned not just to solve the problem but also how to manage it in a quiet way – not to become angry; additionally, cultural and language skills.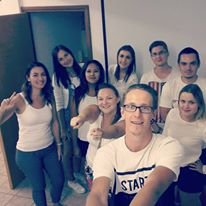 What activities mostly benefited you professionally during internship at DOREA?
From the beginning up till now I have worked on many fields such as research, analysis with Google Analytics, and design with Photoshop, creating videos, not to mention the analysis of competitors. I have already known how to do these things, at this time I just try to develop and become better and better.The utterly new thing was to analyze competitors as I haven't done that before; I studied it at the university, but it was more theoretical. In addition, I was able to improve my presentation skills during the internship as well.
Do you believe that international working experience gives you better chances to find a job?
Actually, I have already got the job what I wanted. So definitely yes, it makes the process easier. On the other hand, having an internship abroad is not just about collecting experiences and conducting your tasks, learning how to show off your abilities is also the part of the story. You cannot just have a good CV which contains a lot of experience; you need to impress the readers and convince them those are not just words. So my experience in abroad have taught me how to present myself and how to form my image – it's really helpful in that case if you know how to use it.
What kind of advice you would give for future trainees who are still hesitating whether to go for Erasmus+ internship after graduation?
First of all, you should avoid hesitation. A great method what I can suggest is to write a list whit pluses and minuses of the internship. Any time when you have the opportunity to go abroad to participate in projects, study, or do an internship, but you're uncertain – just take a paper and draw up the advantages and disadvantages. Then you can make a comparison; if you have more pluses than minuses than without any doubt you should go.
After making the decision to go abroad for studies, for internship or maybe just for a few days, weeks to take participate in a project, you shouldn't forget to read more information about the country as to not to feel lost when you get there. All the countries and cultures are different; even if the borders are close in the measure of distance, you still need to do your own research about customs and culture there. For example, maybe they are not so punctual and you have to wait hours at the airport to be picked up. For them it can be the normal behaviour, but you start panicking while thinking they may have left you there.
According to you, which age group is the most active in taking part in mobility programmes?
Nowadays lot of young people have a lot of opportunities to go abroad either for studies, internship, volunteering or projects. For youngsters it's easier because they are active and they just start to establish their future carrier; most of them don't have daily work yet, they don't have family which in the way, keep them from going. Thus international mobility can be more useful and more attractive for them. On the other hand, it depends also on the person; if that person is active and in general how he/she see the value of the international experience All in all that age group is starting from 18 – after finishing high school for university students – up till 35.
One of the aims of international mobility program is to make the socio-economical change real. How can it help for people to raise the intercultural awareness and to more likely accept the cultural diversity?
People who are travelling to other country using mobility programmes already have some certain image of that country set in their minds. For example if you haven't been in Cyprus before, what would you think about it, how it looks like? It is a place where the sun doesn't stop shining, with so many colours, and just several things to do? When you are in that exact country your imagination meets reality and it's possible that everything is different than the picture you have created in your mind. You can realize that not everything what you have imagined about other part of the world, other nations, or other cultures is correct. If you're open-minded, you can get a better understanding about people and their culture. You can make cross-border friendships during your mobility as well as partnerships; maybe in the future when you struggle with some problems, they can help you to solve them by adding different perspectives and viewpoints.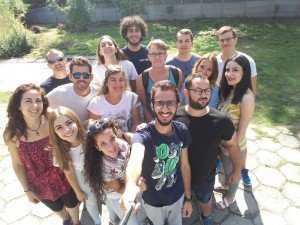 Can solidarity solve today's social problems, such as the question of refugees and immigrants? What is the situation in your country?
We don't have many refugees but so far most of the population don't accept them. Therefore, I have to admit I don't have interest about this topic. Though, I believe if politicians and in general social media would show more positive views about this matter, people could probably change their mind. Most of the people scared about uncertain things – they don't have enough information about those countries and different cultures. When I communicate with people from my own country, it's easier to find common topics because of the common origin; but we deem it differently if someone is from another country – as a foreigner.
I personally do not care about origins of people. In my opinion, you shouldn't judge a whole nation by actions of few people as everyone is different considering their personal traits.
It's good to be familiar with other cultures, have a better insight about how they act in their business, and see how they solve problems in a different way. A knowledge of different mentality improve you as well, you can be better in your own field.
All in all, from one side it can help, from other side it cannot. Other countries have other traditions and maybe you don't like them. In this case it's not helping for you, because you don't match in 100%. On the contrary, if you are open enough and make a bit of effort to find common topics you can agree on many other things. If you find someone who has 90% negative features according to you, there is still 10% which can has a positive effect on your development; you just need to be open-minded and listen.
If there would be some things which you can change with respect of the Erasmus+ Mobility Program what would it be?
I know that the situation is getting better and better with respect of the financial support; however, if I were the person to decide I would analyse the countries and the living standards there again. Most of the students complain that the amount of their scholarship is enough only for surviving the mobility period. If you would like to gain more during your mobility –such as socialize, adapt, visit new places, go around the area, meet new people – you need more money. Another solution is to examine the projects one by one. If the students found an internship place where the company is willing to pay a salary, support accommodation, or secure lunch vouchers; the scholarship is not necessarily needed to be as high as for those students who are not able to get other resources to cover their expenditures.
From another point of view, I would suggest some improvement regarding to the companies side as well. In my opinion, in the case of international internship the companies have to take into consideration how they can motivate the students. Most firms hire them because it can be a great possibility to reduce the costs as it means an unpaid workforce. I would like to highlight that salary is also part of the experience; you build up the connection between your tasks and your money for living. If it's not possible to pay the interns supporting accommodation, secure lunch vouchers, and finance travelling have a great motivational impact as well. Simple gestures can make them smile such as cookies, friendly communication, and other rewards. Moreover, find a balance between work and free time, leisure time. It's important if the firm understand that these students are there for experience, give them flexible timeframe with day-offs and they will be thankful. Oppositely, too much work can make them tired and passive.
Prepared and edited by Flóra Fierpasz