ERACON 2016 conference
DOREA Educational Institute took part in the European Association of ERASMUS Coordinators (EAEC) organized the 12th annual ERASMUS CONGRESS AND EXHIBITION – ERACON2016, which was held in Thessaloniki, Greece on 10-14 May 2016. It is the biggest event for Erasmus+ Coordinators in Europe. During ERACON2016 the 7th annual CAREER-EU Conference 2016 was held in parallel and gave possibility to start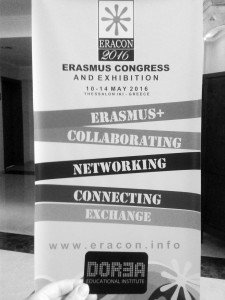 cooperation among business and universities. Conference united around 400 participants from 38 countries: ERASMUS Coordinators, Placement and Internships Managers, Career Officers, Researchers and Professionals with an interest in the ERASMUS Programme and belong either to the academic or business world. This year beside European organisations, there were also colleagues from Colombia, Canada, Lebanon, Serbia and Iran. Seminars and workshops were focused on challenges that HEIs are facing at the moment and has strategy on: raising demand on universities and business cooperation towards students practical experience, sharing good practices among colleagues (consortiums, international platforms), creation of common platforms for students mobility opportunities (studies and internship), coping with refugees integration locally and internationally and other. DOREA is active in projects that relates to these matters and invite university staff (academic and administrative) for their personal and professional development – training courses. Moreover, DOREA invites students to take part in their first steps in professional experience and come for internship in Cyprus.
It was great pleasure to witness official gratitude for top list of colleagues, who have been Erasmus Academic Coordinators for more than 5 years (non-continuous) and a top list of colleagues, who have been Erasmus Institutional Coordinators for more than 15 years or working as Erasmus Institutional Coordinators since the beginning of the ERASMUS Programme in their country with minimum 10 years of service. Dedication to work of all staff members who are working on students and staff mobility, HEIs internationalisation is precious and really gives the possibility to reach the target of 5 mln. participants in Erasmus+ programme 2014-2020. Continues development of international office and generally universities' staff is key of lifelong learning process that increases the quality of education.
One of the best opportunities in such conference is networking. Meeting in person colleagues who are working in Erasmus+ programme, have focus on improvement of education system, have possibility to share good practices on students and staff mobility. In the end, we are all working for better future.
During the visit in Thessaloniki Erasmus+ Coordinator Justina Pluktaite had a chance also to meet with few partners. One of the meetings was with Olga Kiriakidou – who is planning to join DOREA team as a trainer. Justina and Olga discussed collaboration possibilities between DOREA and "Kids in Action", who are situated in WE premises. There is always a great opportunity to get to know partners in person and analyse possible common interest, e.g. adult and youth personal and professional development. Another meeting was with Diana Batraka from "System and G Greece/Latvia" with whom DOREA has already been partners in Erasmus+ programme in youth workers mobility. Future Erasmus+ projects will definitely be planned together with partners.