English language for Educators (Level II) with Neophytos Mitsigkas
Andragogy has been on my interest list for a long while. Teaching adults new skills and behaviours are drastically different from teaching high school or university students. The training with Neo was the first one in my educational career. It cultivated my curiosity of teaching adult learners.
It was also exciting to have an intercultural environment and share similar views concerning education. Neo used many problem-solving and discussion-triggering practices to facilitate language improvisation in English.  The training lasted four days and it was pleasing to see how teamwork exercises pull group members together.
All is language. Skin-deep studying of language will not yield positive results. The language studying requires methodical and rigorous approach. To achieve that, we looked through poetry, sayings, literature (short stories), musical pieces, theatrical performances, and photographs.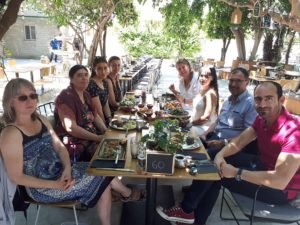 Triggering different emotions, Neo made the participants improvise as they spoke. We also studied Gardener's theory of 9 intelligences to help us uncover our stronger qualities and develop individual learning strategies. Neo raised debatable topics for discussions and we even spent a couple of hours investigating a fiction murder case. Hours flew by, and the training left a boatload of questions to consider. I value questions and if the studying experience brings them, it always makes me think I'm on the right track. The format of the training was fulfilling and structured, and I am eager to explore and attend more analogous activities.
For more information about the training and upcoming course sessions, please click here.
Prepared by Veronika Zhigailova