PRAGUE, CZECH REPUBLIC
Prague is one of the most beautiful cities in the world. Its uniquely preserved historical centre, a UNESCO World Heritage Site since 1992, reflects eleven centuries of history. This culturally rich city full of fabulous monuments charms visitors not only with its impressive and diverse architecture and breath-taking views, but also its intimate, romantic atmosphere that is ideal for long walks. Prague is a city of (not just classical) music and art, found here at every step, a city of gardens and parks, and last but not least, a city where the best beer in the world is brewed and savored.[1]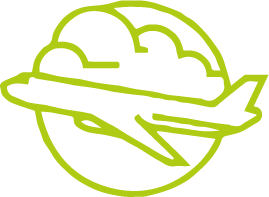 Air - Václav Havel Airport Prague
www.prg.aero
Václav Havel is Prague's main airport. The best way to reach the city centre is using the Airport Express bus service – the station is 100 metres from the main exit of the airport. You can buy tickets from the driver for 60 CZK one way. The Airport Express has 4 stops around the centre of Prague. If you're in a hurry there's a taxi rank just outside the airport entrance, but check with prices before getting in – taking you to the city centre shouldn't cost more than 500 CZK.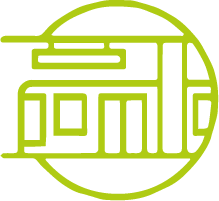 Metro
www.dpp.cz
The metro can get you to all corners of the city, and runs from 05:00 to around midnight. The city isn't big so there are only 3 lines (green, yellow, red). Stations have a red sign combining an 'M' with an arrow – get a ticket inside then validate it at the machine in the entrance. There are lots of different tickets (60 minutes, 90 minutes, 1 day, 3 days) but the most usual is for 90 minutes which costs 32 CZK. These tickets can also be used on buses and trams.
Tram
The tram network is a very popular form of transport in Prague and allows for a spot of sightseeing as it even runs in the historic centre. The tickets are exactly the same as for the metro and the bus, and can be bought either at a metro station or in any newsagent / tobacconist shop. Once you're on board, just stick the ticket into one of the yellow boxes to validate it.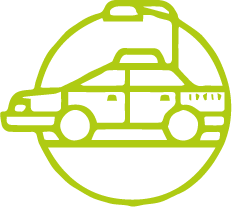 Taxi
Taxis are almost everywhere in Prague, especially in the city centre. The easiest and usually the cheapest way is to order a taxi at the hotel reception. The most known are the yellow AAA Taxis. Watch out for drivers trying to charge tourists more than the usual rate. To avoid this it's always better to order a taxi on the phone. In these cases they'll ask you where you're heading and give you an estimated price in advance.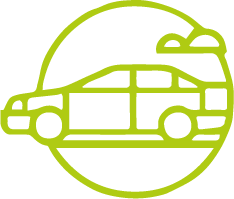 Car
Prague is a busy place and traffic restrictions in the centre make driving stressful. Be prepared for tricky one-way streets and not much available parking in the centre. Parking meters mark out the few areas where parking is possible. One thing to note is that parking in Prague 1 and 2 is reserved for resident only. A quick guide: blue line – only for residents (you'll risk being clamped!), yellow line – no parking, red line – no stopping at all.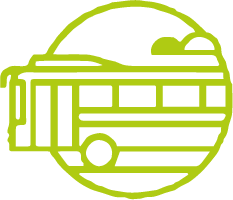 Bus
The bus network mainly covers the surroundings and outskirts of Prague, leaving the city centre to the trams and metro. Bus tickets can be bought at any metro station / newsagent / tobacconist shop and used across all forms of public transport. Hop on and validate your ticket in one of the mounted yellow boxes.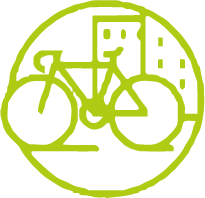 Bicycle
Find a bike near you using the map in the mobile app. Once you choose a bike, it will be marked on the map along with a countdown of how long it will take you to get there. Your ride is time-measured by the app. A bike is rented for 1 hour by default. You can rent it for longer, too, but you will be charged extra depending on your scheme. There's a pink area in our app, called the zone. Please return the bike within the zone so other riders can easily find it. We have also put hundreds of racks on the map for your convenience.
According to the Guinness book of records, Prague is the proud owner of the largest castle in the world. Dating back to the 9th century, the castle spans 18 acres with numerous courtyards and subsidiary buildings including St Vitus Cathedral and the St. George's Basilica.[4]
After John Lennon's murder in 1980 an image was painted on the wall opposite the French Embassy in Mala Strana. Despite repeated coats of whitewash, the wall has become covered in John Lennon-inspired graffiti and lyrics from Beatles songs. The site is seen as a memorial to John Lennon but also as a symbol of free speech and non-violent rebellion.
Babies crawling up the TV Tower.
Thank Prague's resident rebel sculptor, David Černy, for modern art with a sense of humor decorating the city. You can get a close-up of the babies with bar code faces on the castle side of the Vltava River, near the Kampa Modern Art Museum. For more of Černy's twisted work, try the statues of two men pissing outside the Kafka Museum, or the upside-down horse inside Lucerna Palace near Wenceslas Square.[5]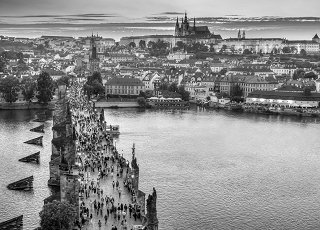 Practical tips – Need to know
Language: Czech
Currency: CZK Czech koruna
Time zone: GMT (+01:00)
Country code: +420
Voltage: 230 V
Electrical socket: Type F Plug
Internet Resources:
http://www.prague.eu
http://www.praguecityline.com
General emergency number: 112
Prague Castle (Hradcany)
Prague Castle and its gardens dominate this area, creating a peace to accompany the hazy views over the city below. Need to find some enchanting souvenirs? Legends say that Golden Lane's trinket shops were once home to alchemists. Saying that, your most cherished memento may just be a snapshot from the head of the New Castle Steps. The guards change at noon every day in the first courtyard.Address: 119 08, Prague 1, Czech Republic.
Lobkowicz Palace
The Lobkowicz Palace is a part of the Prague Castle complex in Prague, Czech Republic. It is the only privately owned building in the Prague Castle complex and houses the Lobkowicz Collections and Museum. Opening hours: Daily: 10 am – 6 pm. Admission: Adults: 275 CZK, Children (7-15), students, seniors: 200 CZK.
Saint Vitus Cathedral
The Prague skyline would look empty without this Gothic miracle, which was founded in 1344. The three-aisled Roman Catholic cathedral with transept and radiating chapels became an indispensable part of Prague. The most renowned part of the church is probably the Chapel of St. Wenceslas, built by Peter Parler. Even though the chapel is not accessible, you can take a look at its beautiful ribbed vault from the doorways. Address: Hrad III. nádvoří 48/2, 119 01 Prague, Czech Republic. Opening hours: 9 am – 5 pm. Admission: Admission to some parts of the cathedral is free. Guided tour of cathedral: Adults: 50 CZK (Czech) / 100 CZK (English, French, German, Italian, Spanish and Russian).
Schwarzenberg Palace
The majestic building of the Schwarzenberg Palace dates back to the 16th century. Note its marvellous Renaissance Architecture and a beautifully decorated facade. Nowadays being a part of the National Gallery in Prague, it currently houses collections of Baroque and Renaissance art, including artworks by Karel Škréta and Peter Brandl. Address: Hradčanské nám. 2, 118 00 Prague 1, Czech Republic. Opening hours: Tue – Sun: 10 a.m. – 6 p.m. Admission: Adults: 300 CZK, Concessions: 150 CZK.
Petrin Hill
This high hill is a popular area for locals to enjoy their free time. It is also said to be a great place for young couples to have a nice walk, especially in spring when all the cherry trees are in blossom. The atmosphere of love is enhanced by a sculpture of the Czech romantic poet Karel Hynek Mácha. And if that is not enough, you can also find a statue of a kissing couple here which is simply called The Kiss.
Golden Lane
Located in the huge Prague Castle complex, Golden Lane is a charming little lane popular with tourists. This 16th-century street, which is actually very small, is lined with charming tiny houses. These beautifully colored houses were once home to a number of important people, including Franz Kafka and Jaroslav Seifert, a Czech writer and Nobel Prize winner. Address: Zlatá ulička u Daliborky, 119 00 Prague 1-Hradčany, Czech Republic. Admission: Visitors can go on a paid tour of two circuits in the Prague Castle complex, Golden Lane is a part of both of them.
Czernin Palace Garden
Czernin Palace Garden was built in the early 18th century and is now protected by the state as a cultural monument. Adjacent to the Czernin Palace, the first designer of this garden was Francesco Carattiho. Note the geometrical structure of this space as well as splendid fountains located here. Address: Loretánské nám. 5, 118 00 Prague 1, Czech Republic. Opening hours: Daily: 10 a.m. – 5 p.m. Free entry.
Loreta
Loreta is a large pilgrimage destination in Prague with a Baroque-style shrine that houses a large collection of liturgical tools. The easily recognizable Baroque facade is a dominant feature of this place. Built in 1631, the church was designed by the Italian architect Giovanni Orsi. Address: Loretánské nám. 7, 118 00 Prague 1, Czech Republic. Opening hours: daily 9 am – 5 pm. Admission: Adults: 150 CZK, Seniors (70+): 130 CZK, Students: 110 CZK, Children (6 – 15): 80 CZK.
Next Deadline for Erasmus+ KA1 Staff mobility will be 1st of February 2018