PORTO, PORTUGAL
Once considered the edge of the known world in the Middle Ages, the industrious town of Porto clung to the side of Portugal looking out across the endless Atlantic Ocean, before adventurers risked it all to head to the new world. Half a millennium has passed since then, but Porto has retained much of that rugged adventurous and determined spirit. The cliché that Lisbon shows off and Porto works is a well-worn metaphor that fails to fully do justice to its real charms. With images of a past way of life hidden down every bustling alley, Porto is a place determined to hold on to its own distinct identity. [1]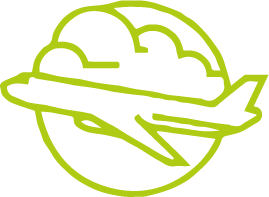 Air - Francisco de Sá Carneiro Airport
www.aeroportoporto.pt/en/opo/home
Situated around 19km northwest of the city centre, the gleaming, ultra-modern Francisco de Sá Carneiro Airportoperates direct flights to major international hubs including London, Brussels, Madrid, Frankfurt and Toronto. The Metro do Porto violet line E (direction Estádio do Dragão) links the airport to downtown Porto; change at Trindade onto yellow line D (direction Santo Ovídio) for Aliados and São Bento stops. A one-way ticket costs €1.85 and the journey takes around 45 minutes. STCP (www.stcp.pt) runs a couple of public buses between the airport and the centre; the most useful is the 601 to Cordoaria, departing every 30 minutes from 5.30am to 11.30pm. A single ticket costs €1.85.
Tram - www.cp.pt
Three tram lines are running in the city from 9:30 a.m. to 9 p.m. approximately (shorter operating hours in winter). The most helpful is the 1 line, which runs alongside the Douro River until Foz do Douro. One single ticket costs 2.50 EUR.
Tip: If you plan on using public transport, it is recommended to purchase the Andante Gold card in one of the Andante stores.
The card costs 6 EUR and allows you unlimited travel during 24 hours within your selected zone (package starting from 4.15 EUR)
Please remember to swap your card on the Andante terminal.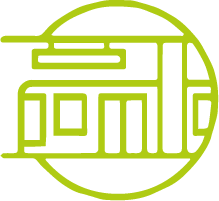 Metro - www.metrodoporto.pt
Porto's subway system is tight and useful, but does not cover the entire city. The 5 lines all stop at Trindade station and run every day from 6 a.m. to 1 a.m. If you plan on buying single tickets, they must be validated before each trip and they can be used for an hour on the whole network. You may thus change your mode of transportation without extra charges.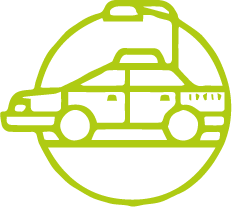 Taxi
All major Portuguese and international car-hire companies have offices at the airport including Cael, while some, such as Europcar, also have offices downtown. Prices start at around €30 per day.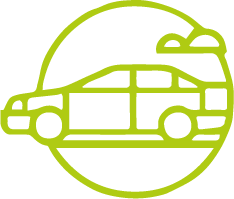 Car
Porto, like most Portuguese cities, is a nightmare to drive in. Roads vary in conditions - from fully paved to cobbled lanes that can make even the shortest of distance seem like a go-kart rally. With that said, keep in mind that the touristic part of the city (the Ribeira and Baixa) are a never-ending maze of narrow streets, short tempered drivers and snakelike alleys. Better to walk (despite the fact that it's very hilly). Also, drivers seem to have forgotten how to drive (apart from pushing the pedals) - therefore, they make their own rules of the road (however, this generally does not apply to young drivers). Be prepared to lose your patience several times whilst driving.[2][3]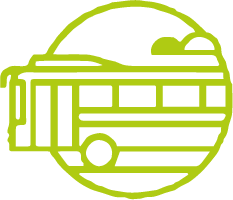 Bus - www.stcp.pt
The bus network covers a lot. Main terminal stations are Jardim da Cordoaria, Praça da Liberdade and the São Bento station. Single tickets can be bought aboard the bus (1.90 EUR). If you use the Andante card, price goes down to 1.20 EUR. To learn about line, price, plans and schedules, please visit the STCP website.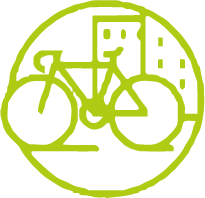 Bicycle
Despite the narrow alleyways, steep hills and cobbled streets, cyclists are ubiquitous in Porto, and there are some particularly great rides along the Douro on dedicated bike paths from Ribeira to Foz or from Vila Nova de Gaia to Afurada and beyond. Bike rental outlets include Fold 'n' Visit, L&L and Porto Rent a Bike. A full day's rental will set you back around €15. Many also offer guided cycling tours. Vieguini has a great selection of high-quality mountain bikes and also rents motor scooters (€28 per day).
PORTO CARD: the best way to know the best in Porto! Free admission on 11 museums, 50% discount on 10 museums, including Serralves, and on the guided visit to Casa da Música and to Palácio da Bolsa. 50% discount on the Zoo Santo Inácio and 35% on the SEA LIFE. Benefits on over 100 city attractions: Douro river cruises, port wine cellars and Vineyard in the Douro, restaurants, including author cuisine, shops, theme centres, entertainment and nightlife. Two different modalities – walker and with public transports! From 6€! Do more and save more in Porto! Information at http://short.visitporto.travel/portocard, in official tourist offices and affiliates![7]
Porto's typical dish is a Francesinha. The "Frenchy" is a very special kind of sandwich. Bathed in a tomato-beer sauce, the sandwich has roast beef, ham, linguiça sausage, and is covered in cheese; it's then accompanied by lots of chips and a beer.
Portugal is named after Porto. The Latin name for Porto was Portus Cale. Then, in the Medieval times, the region north of the Douro was named the "Condado Portucalense" (County of Portucale), which then eventually led to the country of Portugal.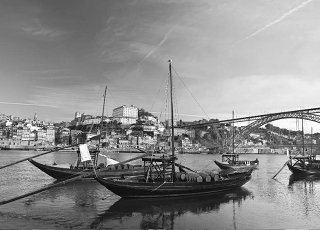 Practical tips – Need to know
Language: Portuguese
Currency: EUR Euro
Time zone: GMT
Country code: + 351
Voltage: 230 V
Electrical socket: Plug type C, F
Tourist Contacts:
+351 223 393472
Internet Resources:
www.visitporto.travel
http://visitportoandnorth.travel/
General emergency number: 112
Church in Ribeira
The intriguing church built in 14th century which mixes Gothic and Baroque influences into an interesting blend of styles. The interior boasts with glamorous wood carvings that cover the stone structure of the church. The contrast between the plain façade and the richly decorated interior is striking. Address: Rua de Ferreira Borges, 4050 Porto, Portugal, 41°8'27.504" N -8°36'56.484" E. Price: adult/child €4/2. Opening hours: 9am-8pm Jul-Sep, to 7pm Mar-Jun & Oct, to 6pm Nov-Feb.
House of Music (Casa de Música)
Designed by Rem Koolhaas, this building of unusual shape is home to three orchestras and hosts many musical events. The architects used white concrete to build this shoe-box-shaped concert hall and they added two walls made entirely of glass to bring the light to the interior. There is also a restaurant at the top of the building. Address: Avenida da Boavista 604-610, Porto. Price: guided tour €7.50. Opening hours: Portuguese/English guided tours 11am/4pm.
Porto Cathedral (Sé do Porto)
A former Romanesque church with a nice Gothic cloister that was added later. The facade is not unduly decorated yet its humble style with bare walls and rose window seems to have a certain charm. Highly recommended to visit during your stay in Porto. Opening hours: 9 am - 7 pm. Admission: You can enter the cathedral for free. Address: Terreiro da Sé, 4050-573 Porto, Portugal, 41°8'34.046" N -8°36'40.401" E.
Livraria Lello & Irmão
Visit the most amazing bookshop in Portugal! It was established at the wake of the 20th century and housed in a charming Art Nouveau estate with red curvy stairway, wooden panels and columns plus and hundreds of books on the shelves. Address: 144 Rua das Carmelitas, 4050-161, Porto, 41°8'48.794" N -8°36'53.253" E. Opening hours: Mon - Fri: 10 am - 7:30 pm, Sat - Sun: 10 am - 7pm. Website: http://www.livrarialello.pt/en/.
Church of Santa Clara (Igreja de Santa Clara)
The facade of this 16th century church might not impress you, but do not let the unassuming exterior discourage you from entering! The interior hides incredibly ornate wood carvings. The church is not so easy to find, but it is totally worth seeing. Adress: Travessa de Santa Clara, 4000 Porto, Portugal, 41°8'32.944" N -8°36'33.104" E. Opening hours: 9.30am-noon & 3.30-7pm Mon-Fri, 10am-noon & 3-6pm Sat, 10am-noon Sun.
Avenue of the Allies (Avenida dos Aliados)
Porto's busiest boulevard and main artery for shopping, social life and people-watching. The street is lined with many important buildings, banks and hotels and there is also the Town Hall at the top of the avenue – a great example of the 19th century Neoclassical architecture. Visit one of the many shops or cafés lining the street.
Saint Anthony's Church (Congregados)
This church with its eye-catching façade decorated with blue tiles is the dominant of Praça de Almeida Garrett. It was built in the name of St Anthony, who is the patron saint for the things that we lost. When you visit this beautiful church, note the High Altar with the tabernacle. It dates back to the 17th century. Address: Rua de Sá da Bandeira 4000-433 Porto, Portugal, 41°8'46.69" N -8°36'38.549" E. Opening hours: 7:15 am - 6:30 pm.
Next Deadline for Erasmus+ KA1 Staff mobility will be 1st of February 2018