PISA, ITALY
Pisa, Italy is best known for its leaning tower, but there is so much more to see in this Tuscan town. Piazza dei Miracoli, the area around the cathedral and the tower, is beautiful, and a visit can easily occupy several hours. Pisa was one of the four great maritime republics in the Middle Ages, and it retains a good selection of monuments from that era. There's also the Arno River, a university, and several interesting museums.[1]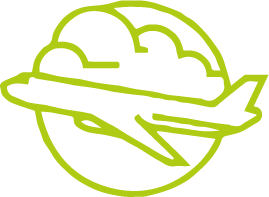 Air - Aeroporto Gallei
http://www.pisa-airport.com/en/
Pisa has a small airport, Aeroporto Gallei, with flights to other Italian airports as well as some European cities and Great Britain. Take Bus #3 to get from the airport into Pisa. Airport car rentals include Avis and Europcar. Take the A11 or A12 autostrada to get here by car. [2]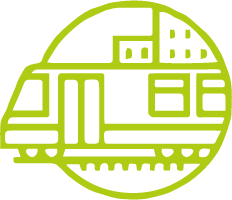 Train
Pisa is easily reached by train or bus from Florence, Rome and the coast of Tuscany. Local buses serve nearby towns. Wandering Italy offers a video about how to get from the Pisa train station to Piazza dei Miracoli to see the leaning tower and cathedral.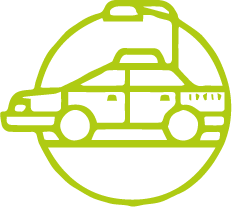 Taxi
If you can, get a taxi from an official taxi rank. It lowers the chance that you'll wind up in unregistered taxis, which are notorious for not playing by the rules. Try to have small change on you. Don't get in a cab with just a €50 bill, and the more coins you have on you, the better. Cab drivers should, but don't always, have lots of bills and coins to create change with. And sometimes, they use the "I have no change" routine as a way to pocket the extra.[3]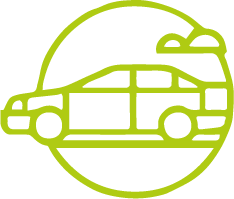 Car
Naturally, those who want to explore Pisa – both the city and the province – at their own pace should opt for a car, either for their personal vehicle or for a rented car. Cars for rent are available at the International Galileo Galilei Airport of Pisa, were more than 10 car rental companies operate. Either way, one aspect all tourists getting around by car should keep in mind is that most of the historic center of Pisa is out of reach if opting for a car, given the center is under the ZTL (Limited Traffic Zone) restrictions, only public transportation means and resident and authorized vehicles being able to gain access to this area. However, if they still opt for a car despite such limitations, they should rest assured: there are plenty of free parking spaces in Pisa, as well as paid parking lots – depending on the location of these spaces.[4]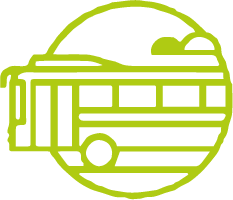 Bus
Buses are said to be the most convenient means of transport within Pisa, shuttling their passengers both to the historic center and to virtually all around the city of Pisa. Most useful seem to be the so called LAM Rossa, linking the airport and the central station to the historic center. Acquiring bus tickets is extremely simple, all busses being fitted with ticket machines.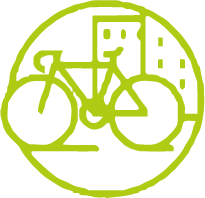 Bicycle
Some hotels lend bikes to their guests. Otherwise pedal around town on a silver bicycle courtesy of Pisan bike-sharing scheme Cicopli, with an info point on Piazza Vittorio Emanuele II. Pick-up/drop-off at 14 stations dotted around the city, including at Pisa Centrale and Pisa San Rossore train stations, Pisa airport and Piazza Manin (adjoining Piazza dei Mracoli).
Toscana In Tour rents decent bicycles (€16 to €20 per day), scooters and stylish vespas. Touristy stands at the northern end of Via Santa Maria and other streets off Piazza dei Miracoli rent touristy four-wheel rickshaws for up to three/six people (€10/15 per hour) and regular bicycles (€3.50 to €5 per hour).[5]
Construction on the Leaning Tower of Pisa took 176 years!
It was begun in 1174 but wasn't completed until around 1350. The reason for such a lengthy delay may not come as a surprise: several costly wars in which the city-state of Pisa was involved. The delays were probably a blessing in disguise, because the soil compressed over the years of construction, likely keeping the Tower from falling!
The Tower used to lean in a different direction!
The seven bells at the top have not rung since last century. Each of these large bells (the largest weighs nearly 8,000 pounds) represents a musical note from the major scale. Though you can still see them if you climb to the top of the tower, they haven't tolled since the 20th century – By now you can probably guess why. Restorers and engineers worried that their movements would make the tower lean even more.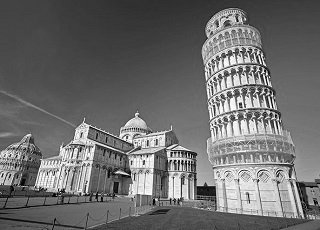 Practical tips – Need to know
Language: Italian
Currency: EUR Euro
Time zone: GMT +1
Country code: + 39
Voltage: 230 V
Electrical socket: Plug type C, F
Tourist contact:
+39 050 42291
Internet Resources:
http://www.aboutpisa.info
http://www.pisa-tour.com
http://www.pisa-info.com/
General emergency number: 112
Leaning Tower
One of the most iconic landmarks in the entire Italy, this tower stands to prove that sometimes, even the impossible can be made to happen. Works on this seven-floors-high tower started in 1173. Soon after, in 1178, it became evident that the tower had started to tilt due to the unstable ground underneath. This led to momentarily giving up on the effort. The tower generally opens between 8:30 – 10 am and closes between 5 – 9 pm. Admission: €18. Address: Piazza del Duomo, 56126 Pisa, Italy, 43°43'22.715″ N 10°23'47.846″ E.
Piazza dei Miracoli
This is the ground that connects several of probably the most famous landmarks in Italy. Housing the Pisa Cathedral, the Pisa Baptistry, the Campanile, the Camposanto Monumentale, and – of course – the leaning tower of Pisa, this square offers you a day-long experience in such a condensed space without the need to transport yourself over long distances. Address. Piazza del Duomo, 56126 Pisa PI, Italy, 43°43'23.593″ N 10°23'45.931″ E.
Battistero
With its height of 55 metres, this building is the largest baptistery in Italy. Thanks to its shape, it has extraordinary acoustics, which is demonstrated every 30 minutes by a person on duty, who sings a few notes. Address: Piazza del Duomo, Pisa PI, Italy, 43°43'24.077″ N 10°23'38.901″ E. Opening hours: Nov – Feb: Daily: 10 am – 6 pm, Dec: Daily: 10 am – 5 pm, Mar: Daily: 9 am – 6 pm, Apr – Sep: Daily: 8 am – 8 pm, Oct: Daily: 9 am – 7 pm. Admission: One: €5, Two: €7, Three: €8.
Camposanto
Literally "Holy Field", this peaceful cemetery holds the sacred soil from Golgotha. Built in the 13th century, it served as a burial place for wealthy Pisans. It is enveloped by beautiful arcades with many frescoes. Enjoy a tranquil stroll and marvel at imposing funerary monuments, historical sarcophagi, and majestic sculptures. Address: Piazza del Duomo 56126 Pisa PI Italy, 43°43'26.436″ N 10°23'44.338″ E. Opening hours: Opening hours depend on the season and day of the week, please, check the official website. Admission: One: €5, Two: €7, Three: €8.
Pisa Cathedral
This cathedral, built in 1118, is one of Italy's most elegant buildings and cannot be missed when visiting the city. This building is a true architectural gem, in and out. The Arab influence is visible on the outside facade, which is covered by white marble. The interior will leave you speechless, everything is decorated with a great attention to detail, and there are a few priceless art pieces adorning the cathedral. Address: Piazza del Duomo 56126 Pisa PI Italy, 43°43'23.88″ N 10°23'44.16″ E. Opening hours: Opening hours depend on the season and day of the week, please, check the official website. Admission: One: €5, Two: €7, Three: €8.
Santa Maria della Spina
Situated on the riverbank, this charming church dating to the 13th century will catch your eye immediately. Despite being relatively small, it is often considered to be one of the finest examples of Gothic architecture in the country. Be sure to stop by and marvel at the exquisite facade, arches, and sculpture decorations. Address: Lungarno Gambacorti 56100 Pisa, Italy, 43°42'54.877″ N 10°23'48.229″ E. Opening hours: Weekdays: 10 am – 2 pm, 3 pm – 6 pm, Sat, Sun: 10 am – 6:45 pm. Admission: 2€ per person.
Museo Nazionale di San Matteo
The National Museum of San Matteo in Pisa displays works from historic ecclesiastical buildings in the city and Province of Pisa. Address: Piazza San Matteo, 56100 Pisa, Italy, 43°42'52.691″ N 10°24'26.699″ E. Opening hours: Tue – Fri: 8:30 am – 7 pm, Sat, Sun: 8:30 am – 1:30 pm. Admission: Full: € 5, Reduced: € 2.50, EU citizens under 18 and above 65: free.
Palazzo Blu
Palazzo Blu is a center for temporary exhibitions and cultural activities located in 9 Lungarno Gambacorti, in the heart of the historic center of Pisa, Italy. This museum is managed by the Fondazione Palazzo Blu, and is located in the Palazzo Giuli Rosselmini Gualandi, ancient palace restored by the Fondazione Pisa. Its name comes from the blue color uncovered during an architectural recent restoration, and attributable to the taste of Russian owners who acquired the Palazzo in the eighteenth century. Address: Lungarno Gambacorti 9, 56125 Pisa, Italy, 43°42'55.59″ N 10°23'59.506″ E. Opening hours: Weekdays: 10 am – 7 pm, Sat, Sun: 10 am – 8 pm. Admission: free.
Next Deadline for Erasmus+ KA1 Staff mobility will be 1st of February 2018