DUBLIN, IRELAND
The capital of Ireland was originally founded as a Viking settlement and played an important historical role well until the 19th century. The medieval and Gregorian history is still very tangible in the city center, with its cobblestone streets and tiny houses – not to mention the imposing Dublin Castle that dominates the city. The impressive history heritage still reflects in the cultural offerings, too – there are tens of concerts, shows and staged plays every day! Not to be missed are also many interesting museums with free admission where you can learn about the moving history of the Irish and marvel at the artistic masterpieces. To enjoy the city as a local does, step out of the tourist streets and have your beer in one of the tucked-away, charming pubs where you can mingle with the Dubliners easily.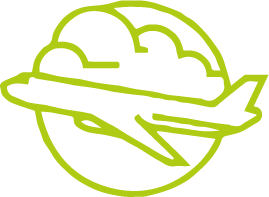 Air - Dublin Airport - www.dublinairport.com
Located 13km north of the city centre, Dublin Airport has two terminals: most international flights (including most US flights) use Terminal 2; Ryanair and select others use Terminal 1. Both terminals have the usual selection of pubs, restaurants, shops, ATMs and car-hire desks. There are direct flights to Dublin from all major European centres (including a dizzying array of options from the UK). Buses to the city centre run every 10 to 15 minutes between 6am and midnight; taxis (€25) take around 45 minutes.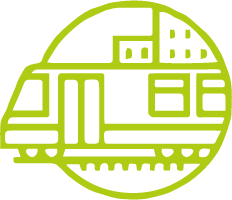 Train
The Dublin Area Rapid Transport provides quick train access to the coast as far north as Howth (about 30 minutes) and as far south as Greystones in County Wicklow. Pearse Station is convenient for central Dublin south of the Liffey, and Connolly Station for north of the Liffey. There are services every 10 to 20 minutes, sometimes more frequently, from around 6.30am to midnight Monday to Saturday. Services are less frequent on Sunday. A one-way DART ticket from Dublin to Dun Laoghaire or Howth costs €3.25.
Tram
The light-rail system has two lines: the green line (running every five to 15 minutes) connects St Stephen's Green with Sandyford in south Dublin via Ranelagh and Dundrum; the red line (every 20 minutes) runs from the Point Village to Tallaght via the north quays and Heuston Station. There are ticket machines at every stop or you can use a tap-on, tap-off Leap Card, which is available from most newsagents. A typical short-hop fare (around four stops) is €2.30. Services run from 5.30am to 12.30am Monday to Friday, from 6.30am to 12.30am Saturday and from 7am to 11.30pm Sunday.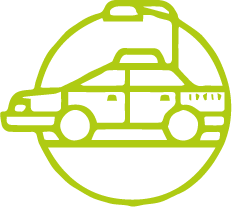 Taxi
All taxis in Ireland have a large yellow and blue roof-sign and door signage. Taxis may be hailed on the street, picked up at a taxi rank or ordered by phone/app. The initial fares are €4.10 during the day 8am to 8pm, €4.45 8pm to 8am and all-day Sunday & Public holidays.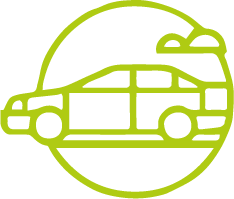 Car
Traffic in Dublin is a nightmare and parking is an expensive headache. There are no free spots to park anywhere in the city centre during business hours (7am to 7pm Monday to Saturday), but there is plenty of paid parking, priced according to zone: €2.90 per hour in the yellow (central) zone down to €0.60 in the blue (suburban). Supervised and sheltered car parks cost around €4 per hour, with most offering a low-cost evening flat rate. Drive on the left, overtake to the right. When entering a roundabout, give way to the right. The legal alcohol limit is 50mg of alcohol per 100mL of blood, or 22mg on the breath (roughly one unit of alcohol for a man and less than that for a woman).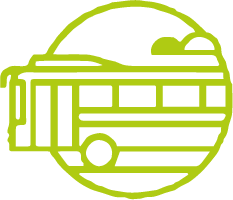 Bus
Dublin is densely covered by bus lines. Unfortunately there are several providers and the whole system is a bit chaotic. You need to tell the driver your destination and have the exact amount in coins ready for the machine. If you don't, and you enter more than the ticket price, you will get an extra change receipt that can be exchanged at 59 Upper O`Connell Street Dublin Office. To avoid this nuisance, you can purchase prepaid tickets: A 3-day ticket for €14.20 allows for unlimited travel with Dublin Bus including the Airlink. If you want to include the Hop-On-Hop-Off tourist bus service, you need to purchase the Freedom Adult Tourist Ticket for €28.00 (€12.00 for children under 14 years). A 1-day ticket costs €6.50 and a 5-day ticket €23.00. The night buses (Nitelink) run midnight to 4 a.m. If you pay with cash, queue on the left side of the bus. The prepaid ticket and card holders queue to the right. Also, note that the timetables do not indicate the times of arrival at the bus stop – but the times when the bus departs the terminal station. Congestion can be really bad so the arrival times are hard to predict.[1]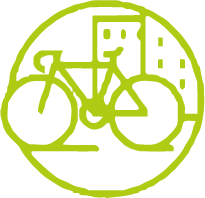 Bicycle
Dublin City Council's Coca-Cola dublinbikes scheme provides 100 public bike stations around the city with approximately 1500 bikes available for general public use. The network of stations extends from the Mater Hospital in the north to the Grand Canal in the south and from Heuston Station in the west to the 3Arena in the east.
The Leap Card is the answer to convenient travel, and the perfect companion for any first time visitor to the city. This handy pay-as-you-go smart card means you save money on travel and you don't have to carry cash! You can buy a Leap Card straight off the plane in the Dublin Airport Arrivals Hall, and for less than €20 you can have 72 hours of unlimited travel sorted.[6]
Did you know Dublin has a stunning coastline just minutes from the city centre? Hop on the DART and enjoy a short, relaxing journey north or south of the city to find yourself in one of Dublin's many gorgeous seaside fishing villages. Yes, Dublin does have seaside villages! [8]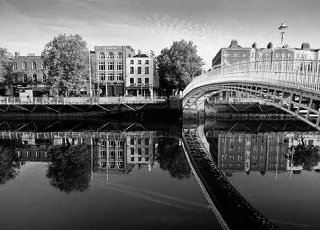 Practical tips – Need to know
Language: English
Currency: EUR Euro
Time zone: GMT +1 hour March to October
Country code: The international dial code for Ireland is +353, the area code for Dublin is 1.
Voltage: 230 V
Electrical socket: British BS
Tourist Contacts:
+1 890 324 583
+1 850 668 668
Internet Resources:
Dublin Tourist Board (www.visitdublin.com)
Official Dublin Website (www.dublin.ie)
Official Ireland Tourist Website (www.discoverireland.ie)
General emergency number:
999 or 112
Guinness Storehouse
Explore the brewery where your favorite Guinness stout is made. There are seven floors full of interactive and hands-on exhibitions here.
Address:109 James's Street, Dublin 8, Irelan GPS: N53.34188, W6.28658. Opening hours: Mon – Sun: 9:30 a.m. – 5 p.m. Admission: Adult: €14.85, Student (18+), Senior: €13, Student (under 18): €10.50, Children: €6.50.
National Museum – Archaeology & History / National Museum – Archaeology & History Dublin
Splendid museum casting a clever eye on the history of Ireland – from the prehistoric age of Celts to Vikings. Admire the ancient artifacts.
Address: Kildare St, Dublin 2, Ireland GPS: N53.33973, W6.25515. Opening hours: Tue – Sat: 10 a.m. – 5 p.m., Sun: 2 p.m. – 5 p.m. Mon, Good Friday, Christmas Day, Public Holidays: closed. Admission: Free entry.
Old Jameson Distillery
Learn about the story of how your favorite whiskey was made. Right in the original distillery where it was produced from 1791 to 1966.
Address: 7 Bow Street, Dublin 7, Ireland GPS: N53.34816, W6.27744. Opening hours: Mon – Sat: 9 a.m. – 6 p.m., Sun: 10 a.m. – 6 p.m
Tours run approximately every 20 minutes. Admission: Adult: €14, Student (18+): €10.60, Senior: €9.60, Children: €7.70.
Henrietta Street
Dainty Georgian street paved with bricks is quite broad, unlike the neighboring streets. Many important people lived here.
Christ Church Cathedral
The Cathedral of the Holy Trinity was founded in 1030. It has an amazing crypt which dates from 1172-1173. Address: Christchurch Place, Dublin 8, Ireland GPS: N53.34344, W6.27169. Opening hours: Mon – Sat: 9 a.m. – 6 p.m. Admission: Adult: €6, Concessions: €4.50, Child: €2, Family (2+2):€15.
St Patrick's Cathedral
This Gothic cathedral was constructed in 1191 as a Roman Catholic church. However, in 1870 it was newly dedicated Church of Ireland.
Address: St Patricks Cathedral, 68 Upper Clanbrassil St, Dublin 8, Ireland GPS: N53.34007, W6.27143. Opening hours: Mon – Fri: 9 a.m. – 5 p.m. Admission: Adult: €5.50, Student, Senior: €4.50, Family: €15.
Dublin Castle
This vast complex comprising of several buildings and yards used to serve as a seat of the British government of Ireland. Address: Dublin Castle, 2 Palace Street, Dublin 2, Ireland GPS: N53.34303, W6.26669. Opening hours: Mon – Sat: 10 a.m. – 4:45 p.m., Sun: noon – 4:45 p.m. Admission: Adult: €4.50, Student, Senior: €3.50, Children (under 12): €2, Children (under 6): free. The Chapel Royal: free entry, Revenue Museum: free entry, The Chester Beatty Library: free entry.
St Valentine is buried in a Dublin church.
Forget Paris, Dublin is the city of love: we have our own Romeo and his name is St Valentine, the saint for lovers all over the world. The remains of this patron saint lie in Dublin's Whitefriar Street Church, and many make the journey to visit him each year; so don't forget to bring your love letter.
Dublin's O'Connell Bridge is famous throughout Europe for its unique dimensions - it's one of the only bridges in the world to be wider than it is long. Not a bad achievement considering that until 1863 the only river crossing was a rope bridge that could hold just one person at a time.
Next Deadline for Erasmus+ KA1 Staff mobility will be 1st of February 2018